Konstantin Kakanias Illustration Essay
She became a cult figure in the art world after a 1996 appearance in The New York Times Magazine. She possesses superlative style, dons Lanvin and Louboutin and is the star of two books as well as a new short film.
She is also, it just so happens, a cartoon character, albeit a very chic one. Mrs. Tependris, as she's called, is the couture-clad character dreamed up by the Greek multimedia artist Konstantin Kakanias, who once said that she — a Greek, art-collecting widow — was his alter ego. And though she's just one in a small universe of fictional characters he's created from watercolors and ink, she's clearly the favorite.
Kakanias was born in Athens in 1961 and moved to Paris in 1979, where he studied art and fashion at the Studio Bercot. In his early 20s, he did illustrations for French and Italian Vogue and then went on to design fabrics for the venerable houses of Yves Saint Laurent and Christian Lacroix. He also spent a year in Egypt, a time whose influence is perceptible in the way in which he, like the ancient Egyptians, often shows the feet and heads of his characters in profile.
Upon moving to New York in 1988, Kakanias worked for Barneys, creating windows, wall paintings and interiors. It was in New York that he first began to make a name for himself on the art scene, working in a variety of media, including painting, drawing and sculpture. Today, the diversity of his creations ranges from a privately commissioned ceramic dinner service for 50 to the frescoes on the walls of Carolina Herrera Jr.'s private church in Spain, where she got married. Collaborations have included bags for Diane Von Furstenberg and Christian Louboutin, as well as a comic book with the former: Be The Wonder Woman You Can Be. He has done a jewelry collection for Swarovski and illustrated books for perfumer Frédéric Malle and the Greek Ministry of Culture (in honor of the 2004 Olympics.)
Based in Los Angeles since 1997, Kakanias has recently taken his first foray into the arena of animated film with Tependris Rising, a star vehicle for you-know-who. He made the movie for the Fall 2012 collection of the Los Angeles–based fashion label Co, the collaborative effort of screenwriter Justin Kern and film producer Stephanie Danan, with the short premiering in front of a glamorous crowd at Soho House in West Hollywood. Now, following an exclusive debut on Style.com, it can be seen on the label's website.
1. Your latest project seems to represent the culmination of fashion, art and film. How did working in this new medium — animation — change the artistic process for you?
When I saw Mrs. Tependris moving, I was absolutely enchanted — caught like a fish in a glass, and now I'm trapped! I am not sure I will do it, but I would love to adopt a theatrical play as an animated movie.
2. You once said Mrs. Tependris is "a metaphor for contemporary art and its superficial reception by the public." In your mind, what does she stand for today?
She is like a mask that anyone can wear because everybody has some Mrs. Tependris in him or her. She is the excess — the deep need to fill it and refill. She is excessively curious, excessively rich, admires art so much that she wants to become the art in order to understand it. I always had a parallel fantasy life as a child. I wanted my mother to be like her, but she is not. Mrs. Tependris is the mask to comment on life, history, art. She gives me the comfort of not being me. She can say whatever she likes. It's not that I always believe what she says, but she gives me the ability to comment on modern life. Maybe she is me, but I am not her.
3. Your art pokes fun at the obsessive nature of fashion lovers, yet the fashion is so on point that we can't help but laugh at ourselves, and still love you! What is the message you are trying to get across?
I poke fun at the nature of any obsessiveness. But I don't want to make fun of it . . . I want to show art victims, fashion victims, religion victims, all in a humorous way because I would like to die laughing, if it is possible. What could be better than laughter? People take things so seriously. What is more serious, a painting or a leaf? A muffin or a dress?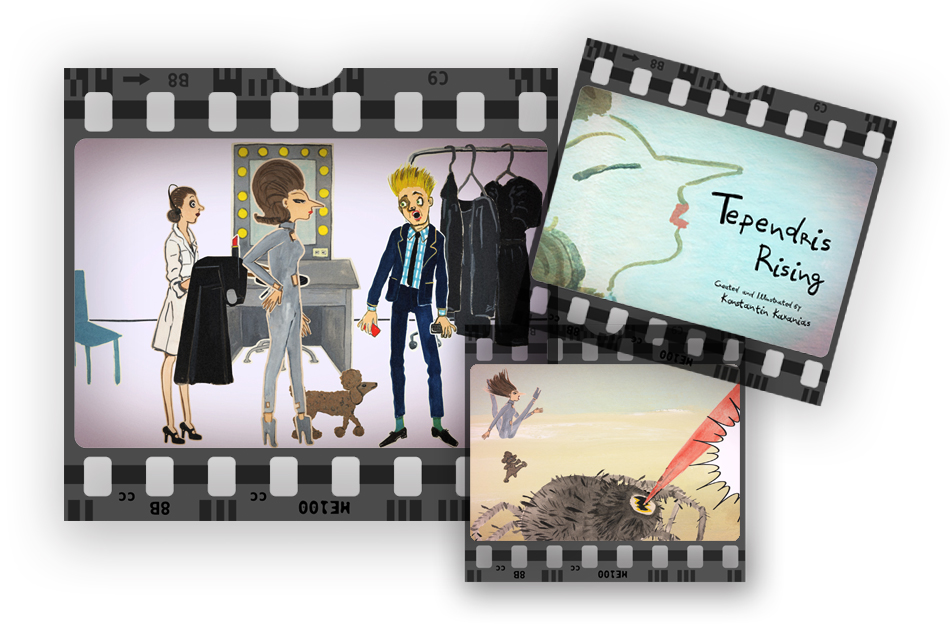 Tependris Rising, Kakanias's first foray into animated film, references everything from Japanese horror films to Esther Williams and Donald Judd.
Among his many projects, Kakanias has created sets of ceramic plates featuring Mrs. Tependris donning Louboutin shoes and Lanvin denim.
The attendees of the August screening of Tependris Rising, at the Soho House in West Hollywood, included Dita Von Teese, Liz Goldwyn and Marisa Tomei. Courtesy of Patrick McMullan
From left: Kakanias with the fashion designer Gelila Puck; Justin Kern and Stephanie Danan, the creators of Co. Courtesy of Patrick McMullan
An illustration for Malle's book, inspired by his Geranium scent.
4. Tell us a little bit about Paris in the early 1980s and how it influenced your art and relationship with fashion.
When I was eight years old, the moment I saw the Paris Opera House, I adored it immediately and said I was moving to Paris. I guess I was a kitsch lover! When I eventually saw an opera — it was Tosca — I went totally crazy. I feel more Parisian than Athenian. I identify with them. I had the chance to work with Yves Saint Laurent. Immediately, you learn about taste. I had a wonderful teacher in Paris, Lila de Nobili [a renowned fashion illustrator and costume and set designer]. She was an amazing woman, artist and person, and an influence on me. My life was dedicated to drawing all the time. I didn't sleep at night. The art was so important then.
We would all meet at Le Privelege [the invitation-only nightclub within Le Palace nightclub]. It was so beautiful — the paintings, the sets. We would get all dressed up. It was really elegant and fun. Everyone was there. This is where I met Christian Louboutin. You could see anything there — Grace Jones could be dancing with Nureyev. I miss it. I even miss the dust of the Metro. You know, the Catherine Deneuve song "La poussiere du metro." Here, in LA, which is so far away, I miss Paris and the coast of Greece.
5. When illustrating Frédéric Malle's book, On Perfume Making, were the scents the starting point for your inspiration?
Sometimes. It took three years. Frédéric had ideas about the perfume because he created it; then you have my peculiarities. So sometimes we would do his image, sometimes we would do mine and sometimes a combination of the two. Whenever I was drawing, I always had this tube of perfume next to me. Frederic knew exactly what he wanted. What type of lady would wear it. So I had that, and sometimes just the name would create the image. It was a collaboration in full. I loved it.
The boldest proclamations in the art world are made by neither critic nor artist, but the high-society Greek style maven known simply as Mrs. Tependris. Mrs. T. does not shy away from eccentricities or theatrics. Rather, she travels the world in search of great art, curious new extravagances, and spiritual enlightenment.
Introduced to the world in 1995, Mrs. Tependris is the alter-ego of illustrator Konstatin Kakanias. "She's you… she's me, she's my mother, she's the mother I wanted to have. She's a side of all of our selves," the artist has said of the character. Of his (real) mother, the jewelry designer Mika Damscou, Kakanias says she "collects pearls" in their native home of Greece.