Childrens Crusade Song Analysis Essay
Before his film debut in the cult musical "Camp" and Tony-nominated stints in "In The Heights" and "La Cage aux Folles," Robin De Jesús was a standout performer at Crystal Theatre, a Connecticut-based nonprofit drama company.
This summer, the 29-year-old actor is getting a rare opportunity to re-connect with his roots in "Mother Jones and the Children's Crusade," a musical by Crystal Theatre's co-founder Cheryl E. Kemeny, as part of the New York Musical Theatre Festival. De Jesús originally performed the musical, which is based on the life of early 20th century labor organizer Mary Harris "Mother" Jones, as part of Kemeny's troupe at age 13; the Broadway veteran is tackling the adult role of Jack Dorsey in the 2014 incarnation of the show, which opened for its seven-performance festival run on July 17, alongside Lynne Wintersteller as the titular character.
Kemeny, who has been focusing on historical musicals for children's theater for some time, says the trailblazing Mother Jones -- who organized a "children's march" from Philadelphia to the home of U.S. President Theodore Roosevelt in New York in 1903 -- was a natural fit for her repertoire. The musical's addition to the festival lineup is just one step in what she hopes will be a gradual journey to Broadway.
"This woman re-invented herself and started an entirely new career in her 60s, so her backstory is amazing," Kemeny said. Pointing to the deaths of Jones' husband and four children during a yellow fever epidemic in Tennessee before the turn-of-the-century, she added, "She used the tragedies in her private life to motivate her to become a relentless, tireless union organizer."
For his part, De Jesús said returning to the show is "a joy," while working alongside Kemeny, who he credits with helping to launch his career, "feels like home."
"I had been asked to do other things this summer but I wanted to be able to, spiritually, give back to Cheryl Kemeny, a woman who has given me so much," De Jesús, who recently appeared in Lincoln Center's "Domesticated" as well as his solo cabaret show, "Crush to Crushed," said. "She knows all my colors and complexities and what I'm good at so she makes sure I can showcase all those things when I do her work."
Of the character of Jack, he added, "It's not the kind of role I get to play typically, and I think that's why I love him."
For more information on "Mother Jones and the Children's Crusade," which runs at the PTC Performance Space as part of the New York Musical Theatre Festival through July 26, head here.
Check out another photo of De Jesús in the show below: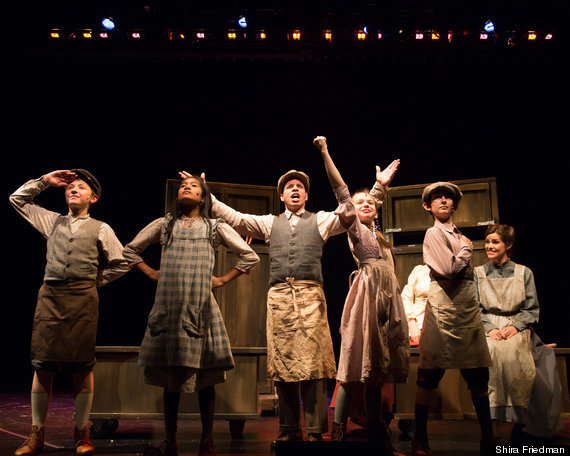 SPECIMEN DAYS By Michael Cunningham. 308 pp. Farrar, Straus & Giroux. $25.
IT'S hard to think of an American writer less likely to emit a barbaric yawp than Michael Cunningham. His sense of form is elegant, meticulous; his prose is exquisite almost to the point of unseemliness. Yet the presiding spirit of "Specimen Days" -- Cunningham's first novel since "The Hours," seven years ago, which was much honored and widely read -- is that of our original and greatest native yawper, Walt Whitman.
The good gray poet is to this novel, that is to say, what Virginia Woolf was to "The Hours": muse, hero, guide, deity -- above all, a literary sensibility into which Cunningham can (to use a favorite verb of Whitman's) effuse himself. Whitman isn't a major character in "Specimen Days," as Woolf was in the earlier novel, but Cunningham clearly means him to be present in every word, every line of the book, in the sense the poet intended when he wrote, in "Song of Myself": "I bequeath myself to the dirt to grow from the grass I love, / If you want me again look for me under your boot-soles."
I did look, and Walt Whitman isn't there in "Specimen Days," not in the organic, dirt-and-grass way he believed in. Cunningham, try as he might, can't keep his attention on what's beneath his feet for long enough; he's a stargazer by nature. And he wipes his boots before every sentence he writes.
So "Specimen Days" is both a very bad book and a very brave one. In the flickering light of this ambitious new novel, the silky tour de force of "The Hours" now looks as if, for all its surface complexity, it might actually have been too easy for Cunningham; Woolf's airy sensibility matches up nicely with his own. In that book, he wove together three separate stories, set in three different periods, with little to connect them but a thin, delicate thread of style and a fragile sort of hopefulness in the face of mortality. (All three stories are about the temptation of suicide.)+And everything works: the novel floats along serenely, like a boat on a gentle English stream. In contrast, the three stories -- again set in three distinct times -- that make up "Specimen Days" are arranged in a homelier, plainer fashion, one novella-sized chunk of narrative after another, as if to acknowledge that in a fictional world governed by Whitman, formal refinement is drastically beside the point.
Without that refinement, Cunningham runs the risk of self-negation, and I think he does it deliberately, as a way of being less like himself and more like Whitman. ("Effusing," explains Helen Vendler in the Whitman chapter of "Poets Thinking," "consists of a conscious refusal to remain a withdrawn spectator, and it requires, for its operation, an annihilation of personal identity.") To add self-insult to self-injury, Cunningham also chooses to cast each of these new stories in the form (more or less) of a popular genre: the first, "In the Machine," is a kind of ghost story; the second, "The Children's Crusade," is a police-procedural thriller; the last, "Like Beauty," is science fiction. The idea, I think, is that the use of such dubiously respectable forms is somehow "democratic" and therefore, again, a possible means of getting in touch with Cunningham's inner Walt.
Continue reading the main story